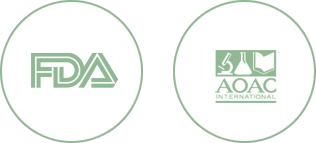 Procedures &
Methods
Current Methods at Kaycha Labs
We run methods from the following sources:
United States Food and Drug Administration (FDA)
International Standards Organization (ISO)
United States Department of Agriculture: Food Safety and Inspection Services.
Association of Analytical Communities (AOAC)
As well as multi-laboratory validated custom methods:
Our ISO 17025:2017 and AOAC accreditation for Florida and Kentucky
Our ISO 17025:2017 accreditation for PhytaTech in Colorado
can be found here

Sample Pick
Up Made Easy
We have a fleet of Nissan NV200 vans available in Florida and Colorado. Our fleet of vehicles are equipped with real time GPS tracking, camera survelliance and freezers to maintain sample quality. Custom sample kits allow us to quickly collect samples and return to the lab. This allows us to return same day to our labs and begin the intake process for your samples. Our vans are located throughout the state providing fast sample pick ups from any location within a few hours.
We have 7 vehicles and are available for pickups with 24 hours notice and regularly scheduled days.
We usually provide 48 hour turnaround from pickup to COA.
5 vehicles in Florida, 2 in California, and 2 in Colorado