The FDA just released new guidance for consumers as we see more and more CBD products on store shelves.Author: Michael WootenPublished: 7:31 PM EST November 27, 2019Updated: 7:31 PM EST November 27, 2019
DEPEW, N.Y. — From tinctures to topicals, capsules to creams. Store shelves are stocked with the latest consumer craze: CBD.
The newest "Your CBD Store" opened last month in Depew. It sells only CBD products.
"It's a natural anti-anxietal, anti-inflammatory, anti-bacterial, anti-fungal and anti-convulsive," explained store manager David Dec.
CBD that's sold online, at gas stations, in drug stores, and at places such as GNC and the "Your CBD Store" is derived from hemp, not marijuana. It has either no THC — the ingredient in cannabis that makes you high — or very low levels.
"This stuff is not the 1970s hippie lettuce that everyone is used to seeing people kind of go crazy on," Dec said. "It's non-psychoactive in all of its formats."
Dec said most of his customers use the oils, creams and other products to help with pain, anxiety or even insomnia. The CBD market, which is projected to jump to $16 billion by the year 2025, includes everything from cosmetics to bath bombs and even pet treats.
But not everyone is on board. The National Consumers League (NCL) recently launched a public awareness campaign to warn customers of the dangers. The group is calling on the FDA to regulate the CBD industry, which means more research, more testing and more scrutiny.
"We want Buffalonians to know that there is an explosion of these products out there, and the vast majority of them have never been checked for their safety or effectiveness," said Sally Greenberg, the executive director of the NCL.
A scientific study published in JAMA found 69.1% of the 84 CBD products purchased online tested had inaccurate labeling, with significantly more or less CBD than advertised. Other studies have found products containing potentially hazardous ingredients.
"That includes pesticides and herbicides and toxic mold, arsenic, lead," Greenberg said. "So we have a Wild West of CBD products that have exploded into our retail establishments."
2 On Your Side and its TEGNA reporting partners have done testing on products to see if they contain the amount of CBD that's advertised.
We bought three oils, two gummies and one lotion. Then we teamed up with Kaycha Labs, an accredited cannabis testing facility in Florida.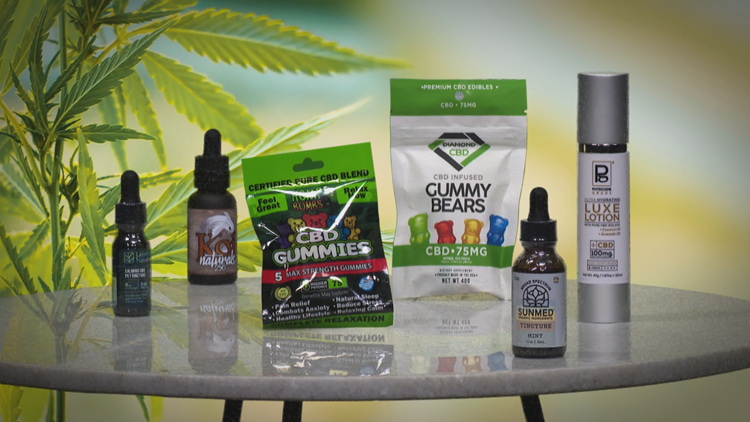 WGRZ
The testing results varied:
Diamond CBD gummy bears that we bought online claimed to have 75 milligrams of CBD. Kaycha Labs said the package only had 37 milligrams of CBD.
Hemp Bombs CBD gummy bears that we bought at a 7-Eleven claimed to have 75 milligrams of CBD. Kaycha Labs said the package only had 26 milligrams of CBD.
Koi oil from a vapours store claimed to have 250 milligrams of CBD. Kaycha Labs said it had 260 milligrams of CBD.
Sunmed Tincture Oil from "Your CBD Store" claimed to have 250 milligrams of CBD. Kaycha Labs said it had 248 milligrams of CBD.
Lazarus Naturals pet oil that we bought online claimed to have 225 milligrams of CBD. Kaycha Labs said it had 247 milligrams of CBD. It also had 9 milligrams of THC.
Physicians Grade Luxe Lotion that we bought at a GNC claimed to have 100 milligrams of CBD. Kaycha Labs said the lotion had 102 milligrams of CBD.
Dec said his store would never sell a product that had more or less than what is on the label.
"We actually as a company send our product out for third-party testing after we have tested it ourselves in our own labs," he explained. Then when it comes back from third-party testing, we re-test it to make sure that the product that we're putting out is as it says it is. If everything doesn't add up correctly, the batch is scrapped, and we start over again."
There are more than 500 "Your CBD Stores" across the country, and Dec said his company welcomes the FDA regulation that the National Consumers League is demanding.
"It will make companies that are putting out quality products that much stronger," Dec said.
Just this week, the FDA updated its consumer guidance, with a few key takeaways:
CBD can cause liver injury
CBD can affect other drugs in your system
CBD can cause unknown side effects
Not enough research has been done looking into the long-term effects of CBD use
"(T)here are many unanswered questions about the science, safety and quality of products containing CBD," the FDA advisory said.Climate Change HavensAd by The New York Times See More
While there are plenty of concerns, Dr. Stephen Hahn, President Trump's nominee to be FDA Commissioner, acknowledged in his Senate confirmation hearing that there are potential benefits from CBD.
"There are signals that CBD… can be an effective medical product, and I think we have to have a clear and transparent framework for assessing certainly on the medical product side," Dr. Hahn said.
In its guidance, the FDA reminded everyone that only one CBD product has been approved by the agency, and that's a specific drug used to treat severe forms of epilepsy. It remains illegal to market CBD as a dietary supplement or to add it to food. The FDA continues to send out warning letters to manufacturers and retailers that violate the rules.